Teeth Whitening
If your teeth have been stained from coffee, cigarettes, tea, or age, or you are simply unsatisfied with the color of your teeth, a teeth whitening could be the treatment for you. As the most popular and conservative form of cosmetic dentistry, teeth whitening is an affordable and easy way to make your smile sparkle. Dr. Ang believes that dentist-supervised teeth whitening remains the most effective procedure for brightening your smile. Dr. Ang offers several teeth whitening treatments, including one-hour ZOOM!® teeth-whitening and take-home whitening kits.
ZOOM!® In-Office Teeth Whitening
Taking care of your teeth and maintaining excellent brushing and flossing routines still can't prevent some degree of teeth discoloration over time. A variety of factors can lead to stains and yellowing of the teeth, including: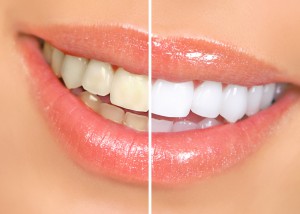 The use of tobacco
Drinking coffee, wine, and/or soda
The natural aging process
Stains and discoloration of the teeth can be significantly improved with ZOOM!® Teeth Whitening treatment here at our practice. Dr. Ang can brighten your smile by up to 10 shades or more with this quick, one-hour office treatment.
ZOOM!® Teeth Whitening begins with the application of a whitening gel on the surface of the teeth. Dr. Ang will then shine a low-intensity light over your teeth, activating the gel. This allows oxygen to bleach the dentin and teeth enamel, ultimately resulting in a lighter appearance. Results from ZOOM!® Teeth Whitening are immediate and there is no recovery time after the procedure.
At-Home Teeth Whitening Kits
In addition to ZOOM!® Teeth Whitening performed here at our practice, Dr. Ang also offers an at-home teeth whitening treatment. Take-home bleaching trays can help you whiten your teeth while you go about your day as you normally would. You can wear them on the way to work, while you are relaxing at home, or at any other time you desire. At-home teeth whitening kits can be effective methods of brightening your smile on your own schedule.
Please contact Dr. Ang for more information on our in-office or at-home teeth whitening treatments.