Holistic Dentistry and a "Green" Dental Practice
Posted on October 7, 2015 in Holistic Dentistry, Latest News
In our last blog entry, we explained the concepts behind holistic dentistry and how dental and periodontal problems can lead to overall health concerns. Today, we'll talk about some of the ways our practice utilizes a holistic approach to dental treatment, as well as how we embrace other holistic principles to provide you with a "green" practice and a healthier environment.
Treatments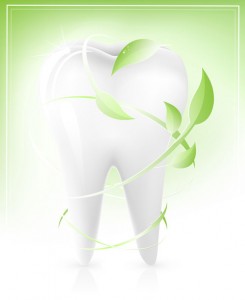 Cosmetic dentistry, from teeth whitening to the replacement of discolored amalgam fillings with mercury-free dental fillings, can benefit greatly from a holistic approach. Filling materials that are now standard at many practices utilize elements that not only provide a more seamless color-blend with your natural teeth, but also eliminate mercury from their composition. Plus, with no mercury materials to use, there are no mercury materials to dispose of, reducing the release of potentially harmful substances into the environment. Other cosmetic dental treatments, such as restoration of teeth to a normal length and contour as well as total smile makeovers, can improve a patient's overall well-being by enhancing both their smiles and their self-esteem.
In addition to cosmetic dentistry options, a holistic approach can help patients who suffer from sleep apnea or TMJ Disorder. These conditions can cause debilitating symptoms and serious overall health issues that may not initially seem related to problems with oral structures. Holistic dentistry takes your total well-being into account, giving us the ability to identify oral problems that may be contributing to your symptoms.
Other functional issues, such as bite and airway concerns, can also be treated with a holistic approach. Patients with an airway problem that results in a constricted upper arch can benefit from upper arch expansion to improve the airway and enhance the appearance of the smile. Patients with bite problems that result in chronic pain can often eliminate that pain without the need for medication once the bite problem is corrected. For growing children with a bite problem, it is typically much easier to remove the restriction and "course-correct" while the child is still growing than it would be to allow the problem to fully develop and compensate later.
Green Practice
In addition to our holistic sensibilities when it comes to treatment, we also employ a "green" approach to our practice. By using mercury-free dental materials and embracing computer-based patient filing systems, we're able to minimize the impact our office has on the environment. Plus, our use of digital x-rays dramatically reduces your exposure to radiation compared with previous dental x-ray techniques. It's also better for the environment because there are no chemical development materials to be disposed of.
With our commitment to your total wellness and utilization of environment-friendly practices at our office, we continue to focus on providing you with the safest, most effective, and most convenient experience possible!
Contact Dr. Susie Ang
If you would like more information on holistic dentistry and our "green" practice, or if you would like to schedule an appointment, please contact Dr. Susie Ang today.