Holistic Dentistry – Markham and Toronto Area Dentist On Dental Care with Overall Health in Mind
Posted on October 19, 2015 in Holistic Dentistry, Latest News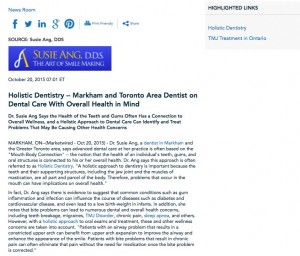 Dr. Susie Ang says the health of the teeth and gums often has a connection to overall wellness, and a holistic approach to dental care can identify and treat problems that may be causing other health concerns.
Markham, Ontario – Dr. Susie Ang, a dentist in Markham and the Greater Toronto area, says advanced dental care at her practice is often based on the "Mouth-Body Connection" – the notion that the health of an individual's teeth, gums, and oral structures is connected to his or her overall health. Dr. Ang says this approach is often referred to as Holistic Dentistry. "A holistic approach to dentistry is important because the teeth and their supporting structures, including the jaw joint and the muscles of mastication, are all part and parcel of the body. Therefore, problems that occur in the mouth can have implications on overall health."
In fact, Dr. Ang says there is evidence to suggest that common conditions such as gum inflammation and infection can influence the course of diseases such as diabetes and cardiovascular disease, and even lead to a low birth-weight in infants. In addition, she notes that bite problems can lead to numerous dental and overall health concerns, including teeth breakage, migraines, TMJ Disorder, chronic pain, sleep apnea, and others. However, with a holistic approach to oral exams and treatment, these and other wellness concerns are taken into account. "Patients with an airway problem that results in a constricted upper arch can benefit from upper arch expansion to improve the airway and enhance the appearance of the smile. Patients with bite problems that result in chronic pain can often eliminate that pain without the need for medication once the bite problem is corrected."
Dr. Ang says cosmetic dental treatments can also benefit from holistic dentistry principles. For instance, she uses mercury-free filling materials to treat cavities, which provides the affected tooth with a more natural appearance and eliminates the patient's exposure to mercury, not to mention the practice's need to dispose of the material later. Thus, she notes, holistic sensibilities even extend to creating a "green" office. "By using mercury-free dental materials and embracing computer-based patient filing systems, we're able to minimize the impact our office has on the environment. Plus, our use of digital x-rays dramatically reduces your exposure to radiation compared with previous dental x-ray techniques."
Ultimately, Dr. Ang says a holistic approach to patient evaluation, as well as to treatment and office technology, is about giving individuals an experience that takes their overall wellness into account and minimizing the impact on the environment. "Those are some of the ways we can continue to focus on providing our patients with the safest, most effective, and most convenient experience possible!"
About Susie Ang, DDS
Dr. Susie Ang is a Fellow of the American Society for Dental Aesthetics and has been a member of the ASDA since 2004. She is also a member of the Toronto Academy of Cosmetic Dentistry, the Toronto Crown and Bridge Study Club, and the Academy of General Dentistry. Dr. Ang graduated from the University of Toronto Faculty of Dentistry and completed post-graduate education in Esthetic Dentistry at SUNY Buffalo. She is a passionate advocate of continuing dental education and consistently pursues further study to remain abreast of the latest techniques in cosmetic and restorative dentistry. Dr. Ang is available for interview upon request.
For more information about holistic dentistry or Susie Ang, DDS, please visit drsusieang.com.
Contact:
Dr. Susie Ang
675 Cochrane Drive
Ste 508 (HWY 7 & 404)
Markham, Ontario, Canada L3R 0B8
+1 905-513-9191
Rosemont Media
(858) 200-0044
www.rosemontmedia.com