Toronto and Markham Area Dentist On the Popularity and Costs of Porcelain Veneers
Posted on June 24, 2015 in Cosmetic Dentistry, Latest News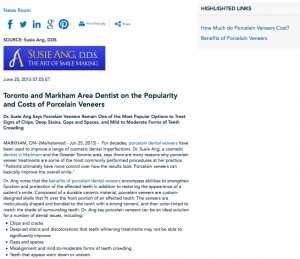 Dr. Susie Ang says porcelain veneers remain one of the most popular options to treat signs of chips, deep stains, gaps and spaces, and mild to moderate forms of teeth crowding.
Markham, Ontario – For decades, porcelain dental veneers have been used to improve a range of cosmetic dental imperfections. Dr. Susie Ang, a cosmetic dentist in Markham and the Greater Toronto area, says there are many reasons why porcelain veneer treatments are some of the most commonly performed procedures at her practice. "Patients ultimately have more control over how the results look. Porcelain veneers can basically improve the overall smile."
Dr. Ang notes that the benefits of porcelain dental veneers encompass abilities to strengthen function and protection of the affected teeth in addition to restoring the appearance of a patient's smile. Composed of a durable ceramic material, porcelain veneers are custom-designed shells that fit over the front portion of an affected tooth. The veneers are meticulously shaped and bonded to the tooth with a strong cement, and then color-tinted to match the shade of surrounding teeth. Dr. Ang say porcelain veneers can be an ideal solution for a number of dental issues, including:
Chips and cracks
Deep-set stains and discolorations that teeth whitening treatments may not be able to significantly improve
Gaps and spaces
Misalignment and mild-to-moderate forms of teeth crowding
Teeth that appear worn down or uneven
Dr. Ang says most individuals who have relatively healthy gums and supporting bones are candidates for the procedure. She notes that the overall cost of porcelain veneers ultimately depends on how many veneers are necessary to meet the patient's goals, how much preparation of the affected teeth will be required before placement of the veneers and other factors. Dr. Ang says most dental insurance policies do not cover porcelain veneer treatment because it is typically considered a cosmetic procedure; however, she says she offers a number of payment options at her practice that can be helpful with bringing the cost of treatment into a patient's budget. Dr. Ang notes that she can even assist patients with finding reputable dental care financing companies that can provide qualified applicants with low-interest monthly payment plans.
All in all, Dr. Ang says, porcelain veneers often prove to be a great value for a patient's smile because the results so markedly improve noticeable dental imperfections. Plus, she notes, the veneers can ultimately last for decades with proper care.
About Susie Ang, DDS
Dr. Susie Ang is a member of the Toronto Academy of Cosmetic Dentistry, the Academy of General Dentistry, and many other dental organizations. She is also a Fellow of the American Society for Dental Aesthetics. Dr. Ang is a graduate of the University of Toronto Faculty of Dentistry, and later attended SUNY Buffalo for extensive post-graduate education in Esthetic Dentistry. She is committed to the pursuit of continuing dental education to stay up-to-date with the latest advances in cosmetic and restorative dentistry. In addition to porcelain dental veneers, Dr. Ang offers general dentistry options, teeth whitening, dental implant restorations, crowns, and other treatments at her practice in Greater Toronto. Dr. Ang is available for interview upon request.
For more information about porcelain dental veneers or Susie Ang, DDS, please visit drsusieang.com.
Contact:
Dr. Susie Ang
675 Cochrane Drive
Ste 508 (HWY 7 & 404)
Markham, Ontario, Canada L3R 0B8
(866) 601-4439
Rosemont Media
(858) 200-0044
www.rosemontmedia.com